Mobilizations on the occasion of World Health Day
We need to struggle for the strengthening of the public health system and the requisition of the private sector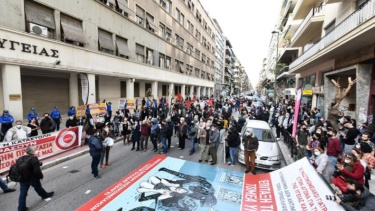 Hundreds of healthcare workers all over the country honoured World Health Day on 7/4/21 by making militant interventions at the gates of hospitals and health centres, protesting at the Ministry of Health, and holding gatherings and multifaceted mobilizations. Workers, trade unions and mass organizations were by their side.
Their demands were the following:
Immediate and unconditional requisition of big private hospitals, their staff and equipment.
Addition of new ICR beds and recruitment–training of the necessary staff for their operation.
Mass recruitment of permanent doctors, nurses, and all other specialties and sectors (paramedical, cleaning, feeding, guarding, administration, technical).
No lay offs! All contract staff must become permanent, without terms and preconditions.
Provision of all necessary means and measures of protection.
Immediate equipment of all health units with the necessary material.
The GS of the CC of the KKE, Dimitris Koutsoumbas, visited the "Evangelismos" hospital, where he attended the workers' mobilization and gave a speech. D. Koutsoumbas made the following statement to the media: "Today, on World Health Day, we are here at "Evangelismos" to express our solidarity with the struggle of doctors, nurses, and other specialties, to thank them for their huge contribution, in pandemic conditions, but also in every phase in the life of this place, for the protection of health, for the protection of the very life of the Greek people. The doctors and nurses, who selflessly give this battle day and night, do not need hypocritical applause, rhetoric and praise. They need mass recruitment of doctors, nurses, and other specialties in the public hospitals. The private health sector needs to be immediately requisitioned in order to find beds, ICUs, and staff. They need to be included in the list of heavy and unhealthy professions. New and contemporary infrastructure needs to be built that will be able to carry out the enormous task to protect health. We need solidarity of the whole labour–popular movement, joint action, joint struggle, social alliance. Doctors and nurses together, factory workers, supermarket workers, the self-employed, other scientists, farmers, young people, women of popular families must set up this front for health, for the rights of the people, against authoritarianism and repression, for the strengthening of the public health system, in order to open another way, which will meet the contemporary popular needs "._
08.04.2021