Massive rally of the KKE in Thessaloniki
We take place with the KKE for the right, the hope, the overthrow!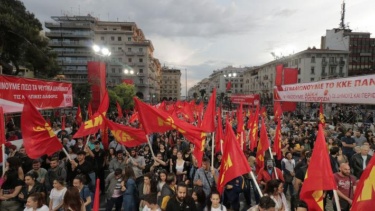 On May 16, 2019, a very massive and vivid rally of the Party Organisation of Central Macedonia of the Communist Party of Greece took place in Thessaloniki. The main speaker was the General Secretary of the CC of the KKE, D. Koutsoumpas, who sent a message ofsupportfor the Party in the ballot box and the struggles for a better tomorrow for our people, a message of the Party'sstrengthening.
D. Koutsoumpas, addressing the thousands of people attending the rally, noted: "For the last ten days until May 26th, we will all enter the strugglewith more momentum. Every street, neighbourhood, house in apeoples' and workers' district, workplace and education place will reach the strong, hopeful message of the KKE. Because the people and the youth of this city know very well and have witnessed the consequences of the policy of all the governments over the last decade. Including the SYRIZA government, which followed exactly the same policy as the previous ones, a policy which has further aggravated the living conditions of the people. This is why now, in the polls thatwill be set up, they can make a decisive step forward with ballots of the counter-attack, the ballots that can make thedifference.
The ballots that send a clear message. Thateffectivelypunish those who brought us here. Which carry in large letters "KKE" in the European elections, "People's Rally" in the municipal and regional elections.
Because each vote in favour of the KKE turns into power and organization of the struggle to put a stop: To the smashing of our lives and our rights for the profits of the capital. To living with crumbs and benefits, which simply recycle poverty and unemployment. To the mockery of those who sank us into debt, now calling on us to get used to the few, to forget about what the workers conquered with their struggles. "
The GS of the CC of the KKE called upon workers and the youth to strengthen a powerfulworkers'-peoples' opposition everywhere in order for their struggles to be strengthened the next day. To pave the way for the truly contemporary: Greece and the Europe of socialism!
17.05.2019