KKE Delegation to the European Parliament:
the announcement regarding the beginning of the process of moving the US embassy in Israel to Jerusalem is provocative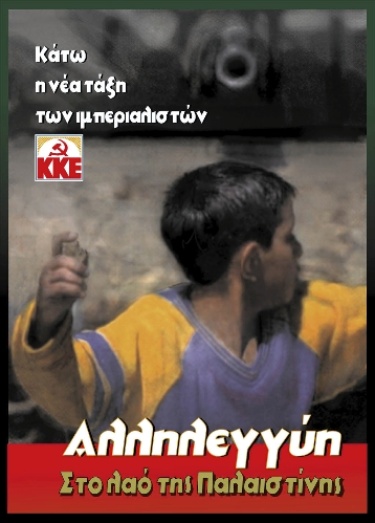 In a Question submitted to the EU's High Representative for Foreign Affairs and Security PolicyFederica Mogherini by the KKE's MEP, Kostas Papadakis, the KKEs delegation to the European Parliament denounced as "provocative" the US government's announcement regarding the beginning of the procedure to move the US Embassy from Tel Aviv to Jerusalem. 
Specifically, the question was as follows:
"It has been officially announced by the US government that it starts the procedure for the transfer of the US Embassy in Israel from Tel Aviv to Jerusalem which, as it stated, is in "its early stages". This move was accompanied by the statements of the Israeli occupational authorities that they plan:
i) The construction of over 500 new residences for Israeli settlers in East Jerusalem
ii) The construction 2,500 new residences for Israeli settlers in the West Bank.
These dangerous developments are one more piece of evidence concerning the US and Israeli aggressiveness in the region, which enjoys the longstanding convergence of the EU. They create the terrain for a new escalation of the competition in the region which, once more, will be paid for by the blood of the peoples.
- What is the stance of the EU as regards the provocative announcement concerning the beginning of the US Embassy transfer's procedure which encourages the aggressiveness of the Israeli leadership and strengthens the occupation against the Palestinian people?"
31.01.2017