On the 2023 Parliamentary Elections
Resolution of the CC of the KKE on the developments and the electoral battle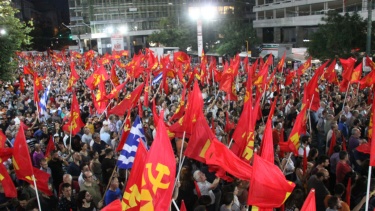 1. The Central Committee of the KKE met and agreed on the Party's programme of action for the following period, based on the political and economic developments and with a view to the upcoming battle of the parliamentary elections.
It approved the main body of the Party's candidates in the parliamentary, regional and municipal elections and elaborated key issues concerning the content of the political call in view of the election battles. It discussed about the preparations for the 13th Congress of the Communist Youth of Greece (KNE), which has entered its final stretch and will be held on 10–12 February 2023, aiming at its success.
The Central Committee calls upon the members and friends of the Party and KNE to rally and act to organize and carry out a new, broad, political campaign aiming at the people in order to strengthen the KKE, which is the best response against the false dilemmas and blackmails that will intensify in the coming period in view of the Read more...